Private School - Female- 744 Students - Host Family
St. Joseph of Cluny Secondary School is a private Catholic Secondary School for girls in Killiney, Co. Dublin. It was founded in 1956 by the French Missionary order of St. Joseph of Cluny. The Order has established a strong academic and holistic tradition in Killiney that is based on the principle of caring for the individual.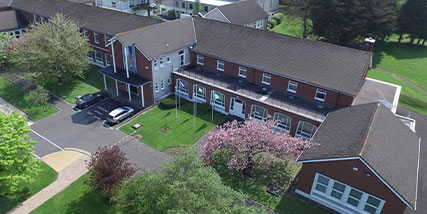 Killiney is a picturesque seaside village of South Dublin, approximately 35 minutes from the city-centre.
Facilities
Library, Science Labs, Home Economics Room, Canteen, Computer Suite, Business Studies, Music Room, Art Room, Gym Hall, Sports Field, Hockey Pitch, Tennis Court.
Subjects
English, Mathematics, Music, German, Spanish, French, Geography, History, Art, Biology, Physics, Chemistry, Economics, Accounting, Computers, Home Economics, Careers, Physical Education.
Extracurricular
Soccer, Hockey, Basketball, Badminton, Tennis, Gaelic football, Debating, Art Club, Music & Drama, Charity Work, Athletics, Music, School Musical, Choir and Orchestra.
Image gallery
Location